Understanding history through art.
The Historical Figures Foundation, a (501(c).(3) non-profit corporation has been chartered to assure that Historical Figures and monologs are preserved and made available for education of future generations. Foundation activities are underwritten by grants and donations worldwide.


Hung Hsiu Chuan, Taiping Emperor
(1814-1864)
Embroidery by LU Zhengliang Arts Studio

Mission

George Stuart's magical Historical Figures and entertaining historical monologs have inspired people of all ages for decades. The Historical Figures Foundation is dedicated to fulfilling that interest in history and art by bringing Stuart's work to the public worldwide.

The Foundation and several organizations have undertaken development and promulgation of educational programs and materials derived from the Historical Figures and monologs. These supporters are also pledged to preserve and conserve this unique legacy of the Figures and Monologs.

Programs

Subscribers and supporters have begun several multimedia educational programs for the public, museums and schools, including:

This new website to display Stuart's body of work
A Digital Image Library documenting the Figures.
A subscription-based quarterly newsletter to fund activities
An award-winning book by the Museum of Ventura County
Very active preservation and conservation programs
Documentary-style DVDs of monologs for the public
Distribution of monologs to public television nationwide
Facilitation of exhibitions of Historical Figures
Develop funding critical for educational programs

We will send you a "Thank You" surprise!
Website Enables Access Worldwide

The Worldwide Web is already a most useful and utilized educational tool. How better to facilitate some sense of world history and art? Now this website brings to the public the educational, artistic and entertaining work of George Stuart. As funds allow, supporters who built this website will continue to add information and portraits of more Historical Figures. The images and biographical text will be augmented with streaming of audio and video extracted from actual monologs.

Digital Image Library

The Foundation is documenting the work of George Stuart. The library supplies most of the website images. Thousands of high resolution color images of the Historical Figures are being taken and cataloged by master photographer Peter D'Aprix.

Figuratively Speaking Newsletter

Supporters publish a quarterly newsletter to keep subscribers informed about the latest news about the Historical Figures and educational programs. Also reported are Stuart-related activities at exhibiting museums and galleries. Subscription is open to the public, and is a way for admirers of Stuart's work to stay informed while supporting gallery projects. Past issues can be viewed at the Media page. Sign up in the Shoppe!




George Stuart Historical Figures Booklet

There is no better way to learn about the Historical Figures and their creator than the award-winning book published by the Museum of Ventura County. A fascinating interview with George Stuart is complemented by dozens of exquisite portraits depicting a cross section of the major groups of Historical Figures. Available in the Shoppe.

The Borgia Family - Juan, Cesare, Lucretia & and Pope Alexander VI; Anastasia Romanova, Alexandra and Nicholas II, Vladimir Lenin; George III, Albert & Victoria, John Brown; Louis XIV, Louis XVI and Marie Antoinette, French Peasants; Hernan Cortez & Malinche, Moctezuma II; George Washington, Martha Washington, Thomas Jefferson; Abraham Lincoln, an African, Robert E. Lee & Ulysses S. Grant, Lakota Warrior; Tzu Hsi & Pu Yi, Chien Lung.
Documentaries from Monologs

Many monologs are videotaped in the Smith Gallery of the Museum of Ventura County for eventual production as documentaries. These educational and entertaining programs can be purchased by the public and are available for television airing.


Video clips from the documentaries can be viewed on the English Figure pages. More documentaries will be produced as funds become available. Monologs in production include "The Russians Are Coming!" "Renaissance and Reformation", "American Revolution and Civil War", and " What Does Love Have to Do with It?" a study of sixteen famous or infamous couples.


Distribution of Educational Documentaries

These programs are available in DVD and SVHS tape formats for airing on public access and educational channels. The first documentary series (English History) contains eight episodes of less than one hour each. Test airings in California, Oregon and Arizona have been received enthusiastically by the local media and their viewing public. To bring these documentaries to your local community access, contact us.
Touring the Historical Figures

The Foundation is developing a capability to exhibit Historical Figures in museums and other venues in the United States and around the world.

Reservations for For more information about 2010 tours and how to bring a self-contained exhibit to your area, contact the Foundation.
Funding Educational Programs and Activities
The Historical Figures Foundation accepts tax-deductible donations and participation to underwrite educational programs and projects. Individuals and organizations are invited to participate in these exciting programs with time and resources. To learn more, contact us or donate here.
---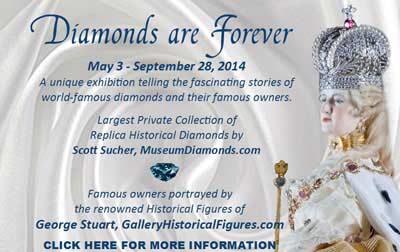 HISTORICAL FIGURES FOUNDATION
Preserving Historical Figures® by George S. Stuart
Please contact the Webmaster if you are experiencing problems with the website.